Machine à sous vidéo Red Rake Gaming Mother of Horus, bonus casino thème Egypte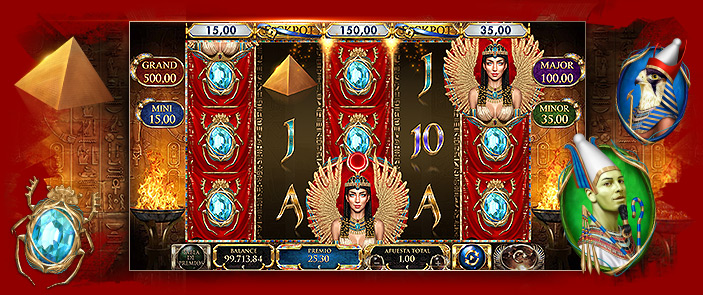 Selon la tradition égyptienne antique, Horus était le dieu du ciel, se manifestant sous la forme d'un faucon. Son nom signifie « le Lointain » en référence au vol majestueux du rapace. Sous ses multiples aspects, Horus est vénéré dans toutes les régions égyptiennes. Outre ses traits dynastiques et royaux, Horus est une divinité cosmique, un être fabuleux dont les deux yeux représentent le Soleil et la Lune. Sa mère, Isis, était l'une des déesses égyptiennes ultimes, dotée de pouvoirs magiques.
Goutez à la machine à sous qui fait honneur à la mythologie Egyptienne, Mother Of Horus propulsée par RedRake Gaming !
Elle a pu guérir les gens avec des sorts et protéger le royaume de ses ennemis, même en gouvernant le ciel et en contrôlant le destin. Cette force divine puissante était l'influence motrice qui a motivé les éditeurs à créer le jeu de machine à sous en ligne Mother of Horus.
On notera aussi une riche bande sonore, qui utilise des instruments de l'Égypte ancienne pour créer un cadre qui fonctionne parfaitement avec les hiéroglyphes de la pyramide qui sert de toile de fond au jeu.
Avec autant de lignes de paiement, la mise minimale dans ce jeu est de 0,50 €. Le montant des paris augmente et se termine à un pari maximum de 35,00 € par tour. Lorsque vous jouez au maximum, le Grand Jackpot est à son plus haut niveau possible de 17 500 € ! Le paiement le plus élevé possible dans le jeu est de 87 500 €, bien au-delà de l'offre de Jackpot !
Néanmoins, vous pouvez jouer avec la mise la plus basse de 0,50 € par tour. Vous verrez 5 Symboles plus ou moins payants s'abattre sur vos lignes de paiement, dont voici le détail :
• Le Scarabée sur tissu rouge : 25,00 €
• Le Symbole d'Isis : 25,00 €
• Le Symbole d'Horus sur fond vert : 25,00 €
• Le Symbole de Faucon : 12,50 €
• La Pyramide : 7,50 €
• Le Logement en or : 5,00 €
• Le A ou K : 0,35 € chacun
• Le Q, J ou 10 : 0,25 € chacun
Isis décerne des prix à partir d'une jauge située dans la partie supérieure du jeu, juste au-dessus des rouleaux. Elle peut apparaître dans le rouleau n°1, n°3 ou n°5 pendant le jeu normal et sur tous les rouleaux pendant les Tours gratuits. Elle sert également de Wild partout dans le jeu.
Vous trouverez également la présence de la Roulette Destiny, une roulette qui garantit au joueur de toucher l'une des 4 Options de Jackpot avec un tour de cette roue de roulette. Les joueurs peuvent accumuler plus d'un tour de Jackpot, et ils auront lieu simultanément et attribuer l'argent lorsque tous les tours sont terminés.
La première chose que vous devez faire est de choisir un montant de pari par rotation en utilisant les commandes situées au bas de l'écran. Plus le pari est élevé, plus vous activez de lignes, et meilleures sont vos chances de gagner. Testez dès maintenant cette expérience magique disponible ci dessus pour jouer en démo ou jouez en réel en cliquant sur JOUER POUR DE VRAI !
Galerie photos de la slot Mother of Horus
Informations techniques
| | | | |
| --- | --- | --- | --- |
| | Logiciel : Red Rake Gaming | | RTP : 95.3% |
| | Lignes de paiement : 50 | | Jetons min. par ligne : 1 |
| | Rouleaux : 5 | | Jetons max. par ligne : 5 |
| | Jeu bonus : Non | | Valeur jeton min. : 0.5 |
| | Progressive : Non | | Valeur jeton max. : 35 |
| | Symbole Wild : Oui | | Jackpot : 25 |
| | Symbole Scatter : Oui | | Tours gratuits : Oui |
| | Option jeu automatique : Oui | | Type : Machine à sous vidéo |
| | Bonus multiplicateur : Non | | Date d'ajout : 7 Février 2020 |