Machine à sousBork the Berzerker : Hack n' Slash Edition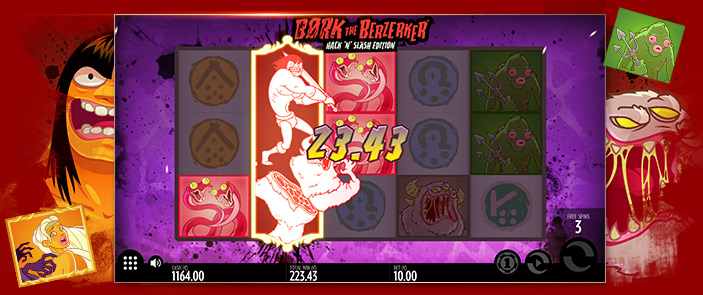 Jouez à Bork the Berzerker et admirez un Dieu combattre les différents monstres du jeu !
Vous avez rêvé toute votre vie de visiter la péninsule scandinave? Propulsez vous dans ces paysages lointains et rencontrez surtout Bork the Berzerker, un personnage qui détient une force surpuissante lorsqu'il se met en colère.
Doté de pouvoirs surhumains il prendra l'aspect d'un monstre géant et vous débloquera les bonus rémunérateurs les plus impressionnants ! Sur les rouleaux, vous pourrez d'ailleurs admirer les différents êtres peuplant ce monde étrange.
Thunderkick, éditeur très populaire auprès des joueurs
Basé sur la légende norvégienne de Berzerker, l'éditeur Thunderkick développe un jeu à la hauteur de son mythique catalogue de machine à sous en ligne. Cette machine à sous vidéo est dotée de 5 rouleaux et de 25 lignes de paiement. Thunderkick a la réputation de développer des jeux en ligne merveilleusement dessinés. Børk The Berzerker n'est pas une exception.
Cette machine à sous en ligne suit la ligne graphique d'un dessin animé, renforcée par une bande-son très réussie. Vous aurez aussi droit à des animations à couper le souffle ! Tout est là pour séduire et placer le joueur en immersion !
De nombreux bonus disponibles !
Cette machine à sous présente plusieurs symboles mettant en mouvement des créatures monstrueuses dessinés sous forme de comics.
Lorsque le joueur réussit à afficher 3, 4 ou 5 symboles bonus, il obtient respectivement 10, 20 ou 50 parties gratuites. Ce symbole bonus, représenté par le sorcier aux mains crochu, vous permettra de gagner trouvez-en 3 au minimum pour gagner 10 free spins, en aligner 5 vous en offrira 50 !
Quand le Wild représentant Bork apparaît au sein d'une combinaison gagnante, il s'élargit et recouvre alors l'intégralité du rouleau sur lequel il est intervenu permettant ainsi d'augmenter les chances de former une nouvelle combinaison payante. Il pourra aussi remplacer tous les symboles de base du jeu et fera son apparition sur le rouleau 2, 3 et 4.
En jouant à Bork the Berzerker, vous pénétrerez dans les profondeurs de l'enfer dans un espace calme et reculé, vous aurez affaire à d'immondes créatures et devrez vous en sortir pour remporter un maximum de crédits.
Que penser de cette machine à sous ?
Avec sa jouabilité exceptionnelle et son environnement digne d'une œuvre d'heroic-fantasy,
Jouez aux jeux à la machines à sous vidéo Børk the Berzerker gratuitement et sans téléchargement ci dessus ou cliquez sur JOUER POUR DE VRAI !
Galerie photos de la machine à sous Bork the Berzerker : Hack n Slash Edition
Informations techniques
| | | | |
| --- | --- | --- | --- |
| | Logiciel : Thunderkick | | RTP : 96.1% |
| | Lignes de paiement : 20 | | Jeton minimum par ligne : 1 |
| | Rouleaux : 5 | | Jeton maximum par ligne : 5 |
| | Jeu bonus : Oui | | Valeur jeton min. : 0.1 |
| | Progressive : Non | | Valeur jeton max. : 100 |
| | Symbole Wild : Oui | | Jackpot : 500 |
| | Symbole Scatter : Oui | | Tours gratuits : Oui |
| | Option jeu automatique : Oui | | Type : Machine à sous vidéo |
| | Bonus multiplicateur : Non | | Date d'ajout : 13 Mars 2018 |