Revue de la machine à sous Quickspin Wild Chase: Tokyo GO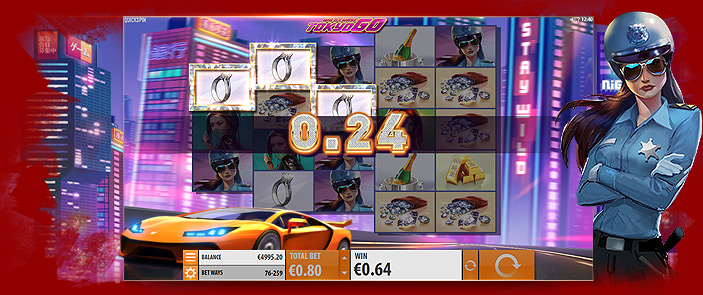 Souvenez-vous il y a quelques années avant le lancement de ce jeu, The Wild Chase mettait en scène un braquage dans Monaco. Pour sa seconde édition du jeu Wild Chase, le joueur intègre une aventure dans la capitale japonaise.
La machine à sous Wild Chase: Tokyo Go est optimisé par Quickspin et dispose de 5 rouleaux et entre 76 et 259 façons de gagner. Jouable de 20p à 100 £ par tour sur tous les appareils, cette suite vous offre un Respin lorsque vous remportez une victoire ! Il existe une fonction Super Respin qui vous permet d'obtenir des réponses gratuites sur le jeu de rouleaux entièrement développé pour courir la chance de gagner jusqu'à 2 757 fois votre mise sur chacun d'eux.
Plongez tout droit dans l'action avec la machine à sous Wild Chase Tokyo GO de Quickspin !
Wild Chase: Tokyo Go est une machine à sous inspirée des courses urbaines avec des graphismes époustouflants. Rappelant les films Fast and Furious, cette machine à sous vous emmène dans un hold-up rempli d'action au cœur de Tokyo. Avec une voiture de sport lancée à pleine vitesse, vous verrez des gratte-ciel et des néons en toile de fond.
Avec une sensation de luxe, le joueur a droit à des Bouteilles de champagne, des Bagues en diamant, des Montres en or, des Lingots d'or et des Diamants sur leur écran de jeu. Ensuite, vous avez 4 Personnages - 3 Femmes et un Homme élégamment vêtu qui vous donne 0,75, 1,5 ou 2,5 fois votre mise pour une combinaison de 3, 4 ou 5 !
Le Logo Wild Chase: Tokyo Go est le Symbole Wild et remplace tous les autres symboles. Étant une machine à sous Connecting Win Ways, vous pouvez former des combinaisons gagnantes en faisant correspondre les symboles de n'importe quelle position sur 3 rouleaux ou plus adjacents à partir du rouleau n°1. Vous commencerez avec 76 façons de gagner !
Lorsque vous obtenez une combinaison gagnante dans Wild Chase: Tokyo Go, la fonction Respin est déclenchée. A chaque Respin, les symboles gagnants se déplacent d'une case vers la gauche avec les symboles restants. Les Respins continuent jusqu'à ce qu'elles ne paient plus.
Si vous obtenez une combinaison gagnante sur le 4e Respin, vous déclencherez la fonction Super Respin. Une fois dedans, tous les symboles gagnants se verrouillent et vous continuerez à obtenir des réponses jusqu'à ce que plus aucun nouveau symbole gagnant ne soit ajouté. Cela se joue sur un jeu de rouleaux complètement développé avec 259 façons de gagner !
N'hésitez plus et cliquez ci dessus dès maintenant pour découvrir la démo du jeu Wild Chase: Tokyo Go en gratuit sans téléchargement ou cliquez sur le bouton JOUER POUR DE VRAI pour miser de l'argent réel !
Galerie photos de la machine à sous WIld Chase: Tokyo GO
Informations techniques
| | | | |
| --- | --- | --- | --- |
| | Logiciel : Quickspin | | RTP : 96.54% |
| | Lignes de paiement : 259 | | Min. jeton par ligne : 1 |
| | Rouleaux : 5 | | Max. jeton par ligne : 5 |
| | Jeu bonus : Non | | Valeur jeton min. : 0.2 |
| | Progressive : Non | | Valeur jeton max. : 100 |
| | Symbole Wild : Oui | | Jackpot : Oui |
| | Symbole Scatter : Non | | Tours gratuits : Oui |
| | Option jeu automatique : Oui | | Type : Machine à sous vidéo |
| | Bonus multiplicateur : Non | | Date d'ajout : 20 Novembre 2019 |