Retrouvez notre avis sur le jeu d'argent de type machine à sous : REIGN OF DRAGONS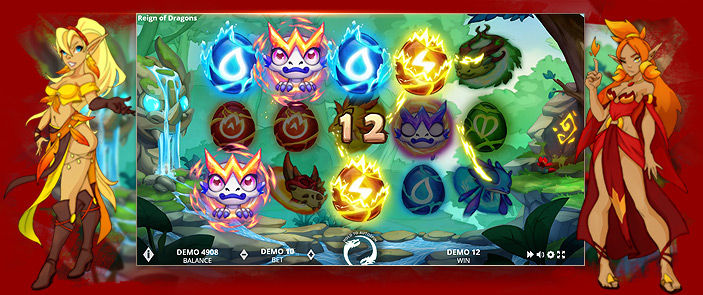 Vous avez toujours rêvé de devenir dompteur de dragons en compagnie de femme sublimes ?
Reign of Dragons est fait pour vous. Ce jeu créé par la marque de jeux de casino EVOPLAY saura vous emmener dans son monde féérique plein de créature mythique. Domptez vos dragons et récupérer bien plus que votre mise !
Comme d'habitude sur les jeux d'EVOPLAY, la musique est entrainante et les graphismes - en plus d'être fluides - sont très bien animés et très beaux.
Combinez les symboles d'oeufs et de dragon du même type (Feu, Air, Eau ou Nature) et empochez vos gains de dompteur de dragons.

Vous aimez les rousse et les tempéraments brûlants ?
Avec l'assistance de la fille en rouge, vous devrez éveiller les dragons rouges pour récupérer un maximum de Symbole WILD, si cette magnifique jeune femme apparaît sur la première bobine, vous êtes presque sûr que les dragons ne resteront pas insensibles et que vos gains augmenteront.
Peut-être la fille en bleu sinon, et sa force tranquille ?
La fille en bleu maîtrise le pouvoir de l'eau, si elle ne réveille pas les dragons, elle vous donne une chance supplémentaire d'augmenter vos gains grâce à la synchronisation des trois bobines centrales. Cette magnifique nymphe d'eau vous attend sur la cinquième bobine.
Adepte des balades en forêt et des espaces naturels ?
La fille en vert vous portera assistance, cette jeune protectrice de la nature apparaît elle aussi sur la cinquième bobine et vous aide à convertir vos œufs bons marchés vert en Sticky Wild, jusqu'à la fin du Free Spins !
Vous préférez peut-être l'or ?
La fille en or, en plus d'être la plus jolie de toutes est aussi la plus talentueuse ! Elle vous aidera à déplacer les dragons dans les meilleures positions pour augmenter vos gains et vous faire gagner à coup sûr, elle permet même aux dragons dorés de devenir des WILD ! Trouvez là sur la première bobine !
Alors, prêt à faire fortune ?

Galerie photos de la machine à sous Reign of Dragons
Informations techniques
| | | | |
| --- | --- | --- | --- |
| | Logiciel : EvoPlay Entertainment | | RTP : 95.8% |
| | Lignes de paiement : 20 | | Rouleaux : 5 |
| | Jeu bonus : Non | | Pari min. : 0.10 |
| | Progressive : Non | | Pari max. : 12 500 |
| | Symbole Wild : Oui | | Jackpot : Oui |
| | Symbole Scatter : Oui | | Tours gratuits : Oui |
| | Option jeu automatique : Oui | | Type : Machine à sous vidéo |
| | Bonus multiplicateur : Non | | Date d'ajout : 12 Mars 2020 |