La machine à sous Legend of Kaan est-elle un bon jeu de casino en ligne Evo Play ?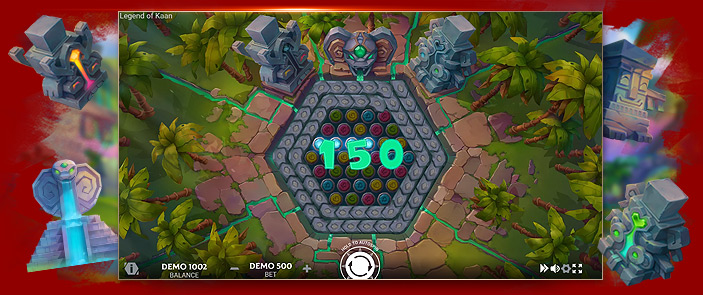 Vous êtes à la recherche d'un trésor ancestrale, face à vous une grande fresque avec un serpent géant sculpté dans la pierre. Lorsque vous ajouter de vos pièces déjà récolté dans l'endroit prévu à cet effet, la gueule du serpent fait à son tour tomber quelques pièces, parfois plus que d'autres ! Vous savez que vous allez devoir résoudre l'énigme derrière ce mécanisme pour avoir accès au trésor, alors, il n'y a plus qu'à jouer à cette machine à sous antique créée par EVOPLAY !

Legend of Kaan un jeu de casino en ligne rentable !
Une musique discrète mais entrainante des graphismes efficaces, le dernier né d'EVOPLAY est là pour vous occuper de longues heures durant dans une nouvelle aventure !
Legend of Kaan est une machine à sous à une seule roue, ce qui est assez peu classique pour le souligner ! Le but est d'aligner plusieurs symboles d'une même couleur afin de faire avancer la roue jusqu'au serpent et déclencher une pluie de pièce et de Free Spin !
Mais pour cela, il va falloir connaître quelques subtilités de ce mécanisme ancien !
• W comme WILD ! Lorsque vous alignez cinq ou plus de symbole du même type, l'un d'entre eux se transforme en symbole WILD et augmente considérablement les potentielles réactions en chaîne ! C'est l'une des combinaisons gagnantes, ne l'oubliez pas !
• Totem sauvage ! Avec le cadeau du Grand Kaan, vous pouvez obtenir 1 symbole Wild pour 12 fragments d'énergie rouges ou jaunes collectés. Tous les symboles Wild collectés apparaissent sur les rouleaux au début d'une nouvelle rotation.
• Totem Free Spin ! Avec le don du Grand Kaan, augmentez vos tours gratuits de 1 pour chaque 12 fragments d'énergie bleue ou verte que vous collectez. Chaque fois que la fonction Life est activée, vous obtenez 1 Free Spin !
• Cadeau de Kaan ! Kaan donne 10 éclats d'énergie qui détruisent les bloqueurs ouvrant une zone de bobine et déclenchant un Respin. Vous permettant d'augmenter une nouvelle fois vos gains !
Le trésor de Kaan n'attend que vous !
Ce jeu d'argent en ligne vous procurera, en plus de gain, un plaisir et un frisson inédit ! Soyez le premier à mettre la main dessus en jouant à cette machine à sous en ligne !
Retrouvez maintenant la démo de la machine à sous de Legend of Kaan disponible gratuitement ci-dessus ou misez de l'argent réel dès maintenant en cliquant sur JOUER POUR DE VRAI !
Galerie photos de la machine à sous Legend of Kaan
Informations techniques
| | | | |
| --- | --- | --- | --- |
| | Logiciel : EvoPlay Entertainment | | RTP : 95.3% |
| | Lignes de paiement : 1 | | Rouleaux : 5 |
| | Jeu bonus : Non | | Pari min. : 0.10 |
| | Progressive : Non | | Pari max. : 500 |
| | Symbole Wild : Oui | | Jackpot : Oui |
| | Symbole Scatter : Oui | | Tours gratuits : Oui |
| | Option jeu automatique : Oui | | Type : Machine à sous vidéo |
| | Bonus multiplicateur : Oui | | Date d'ajout : 18 Mars 2020 |