Rise of Maya, la nouvelle machine à sous en mode argent réel par NetEnt gaming !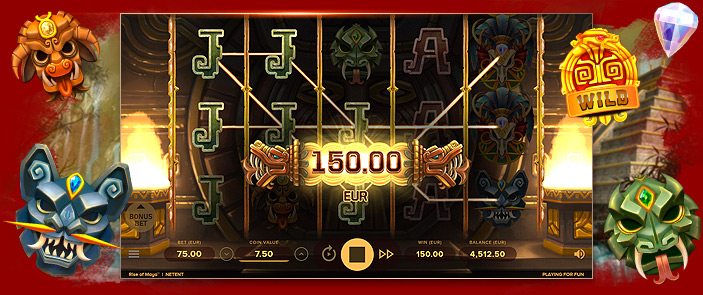 Vous serez embrasé par une des plus exotiques des dernières machines à rouleaux vidéos de NetEnt, Rise of Maya™ !
Vous débarquez dans un ancien temple où une pure sensation de jeu vous est proposée, à la fois sombre et riche graphiquement. Le Masque Maya qui est le symbole plus lucratif de ce jeu et paye 0,5, 5, 50 ou 250 fois votre mise pour 2, 3, 4 ou 5 en combinaison. Vous pouvez gagner des gains en obtenant des symboles correspondants sur les rouleaux adjacents de gauche à droite en commençant par le rouleau n°1.
Profitez de ce jeu casino et de ses 4 « Bonus Wild » !
Le jeu de casino Rise of Maya™ bénéficie de 4 types de Symboles Jokers, comprenant le Serpent Standard, 2 Jokers de Serpent en expansion et des piles de Serpents. En plus de se substituer à d'autres symboles, les symboles « Wilds » représentés par les Serpents sont des symboles en expansion qui s'étendent de haut en bas et peuvent prendre le contrôle de la bobine entière. Le symbole des piles de Serpents n'apparaît que dans la fonction Tours gratuits, sur les rouleaux « Hot » et pourra recouvrir entièrement la bobine de jeu.
Le joueur trouvera aussi un Symbole de dispersion nommé « Scatter » pour déclencher les Tours gratuits ! Ils s'activent lorsque 3 Symboles Jokers ou « Scatter » ou plus apparaissent n'importe où sur les rouleaux, vous commencerez alors avec 15 Tours gratuits. Les rouleaux sur lesquels les « Wilds » ont atterri deviendront des rouleaux « Hot » pendant toute la durée de la fonction. Les piles de serpent atterrissant ainsi sur le jeu auront la faculté de changer un rouleau entier en Rouleaux Jokers. Vous pouvez également gagner des Tours gratuits supplémentaires, jusqu'à 24 Tours gratuits avec lesquels vous pouvez jouer au total.
Le jeu casino Rise of Maya™ est également livré avec une fonctionnalité Symbole de Dispersion « Nudge » déclenchée au hasard lorsque vous n'obtenez pas de combinaison gagnante dans le jeu de base ou la fonction Tours gratuits. Une fois activés, les « Wilds » ou « Scatter » sont poussés sur les rouleaux pour déclencher la fonction et vous donner la chance d'accumuler des Tours gratuits supplémentaires !
Bonus : Fonction Scatter de la seconde chance !
Il existe une fonction Bonus, le « Scatter » de la Seconde Chance, que vous pouvez choisir d'activer ou de désactiver dans le jeu de base. Si vous l'activez, vous doublerez votre mise et augmenterez vos chances de voir des symboles Joker ou Dispersion supplémentaires qui mèneront à la fonction Tours gratuits avec des rouleaux « Hot ».
Lorsque vous obtenez 2 Jokers ou symboles "Scatter" sur les rouleaux, les rouleaux qui n'affichent pas ses symboles tourneront à nouveau pour une seconde chance !
Découvrez les aventures excitantes de cette civilisation perdue avec la machine à sous vidéo Rise of Maya™! Vous pouvez accéder à la démo sans téléchargement disponible ci dessus ou cliquer directement sur le bouton JOUER POUR DE VRAI !
Galerie photos de la machine à sous Rise of Maya
Informations techniques
| | | | |
| --- | --- | --- | --- |
| | Logiciel : NetEnt | | RTP : 96.12% |
| | Lignes de paiement : 10 | | Valeur jeton min. : 0.10 |
| | Rouleaux : 5 | | Valeur jeton max. : 75 |
| | Jeu bonus : Oui | | Jeton min. : 1 |
| | Progressive : Non | | Jetons max. : 5 |
| | Symbole Wild : Oui | | Jackpot : Oui |
| | Symbole Scatter : Oui | | Tours gratuits : Oui |
| | Option jeu automatique : Oui | | Type : Machine à sous vidéo |
| | Bonus multiplicateur : Oui | | Date d'ajout : 24 Février 2020 |