Machine à sous vidéo en ligne The Tipsy Tourist, Betsoft Gaming 3D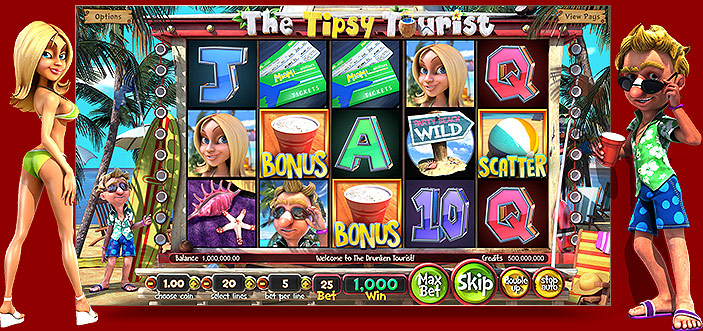 Machine à sous 3D The Tipsy Tourist de Betsoft Gaming
Date de sortie : 16 Septembre 2015
Partez au soleil avec la prochaine machine à sous 3D Betsoft Gaming : The Tipsy Tourist ! Retrouvez Gary, en vacances à Miami et en charmante compagnie dans une machine à sous vidéo complètement dingue.
La qualité Betsoft Gaming au rendez-vous !
Passer la longue cinématique d'introduction servant à vous présenter les 2 personnages de cette machine à sous vidéo de casino en ligne, vous arrivez sur l'interface de la slot. Disposant d'une interface soignée avec des graphismes d'excellente qualité, la videoslot 3D The Tipsy Tourist s'inscrit dans la longue liste des chefs d'oeuvre Betsoft Gaming.
Car en plus de proposer une interface impeccable et une bande sonore de qualité, la machine à sous 3D sans téléchargement propose différents bonus de casino pour multiplier vos gains initiaux, le tout dans une atmosphère de coolitude estivale !
Que réserve la machine à sous The Tipsy Tourist ?
Ce jeu de hasard de casino en 3D réserve son lot de bonus comme des symboles WILD (servant à remplacer les symboles sur les rouleaux de jeu pour ainsi réaliser des combinaisons gagnantes plus facilement), des FREE SPINS (tours gratuits qui vous permettent de faire tourner les rouleaux sans miser d'argent, souvent par 5, 10 ou 15) et même un jeu bonus !
N'oublions pas également la possibilité de doubler votre gain à chaque fois sous la forme d'un jeu de quitte ou double. Il faudra donc là être très méthodique (et un peu chanceux) mais vous pourrez gagner très vite des gains considérables !
Notre avis sur la Machine à sous 3D The Tipsy Tourist
Comme d'habitude, Betsoft Gaming ne nous déçoit pas et propose une excellente machine à sous qui tombe à pique puisqu'elle rappelera les bons souvenirs de l'été en cette rentrée 2015 ! Tous les joueurs de casino en ligne se doivent de tester cette machine à sous, en mode gratuit ou payant !